The MessageNet Blog
Get The Message Out!
How we communicate with each other is constantly evolving. For millennia, any communication that wasn't in person was by necessity visual. Advances in audio technology, such as the telephone and public address systems, turned communication trends towards the audio for a long time. Making pages over PA systems and calling people on their phones was the fastest and easiest way to get in touch with people. Emergency and critical communications systems mirrored that preference. They focused on paging and on phone calling. But recently, there's been a shift back towards visual communication. It's vital that emergency notification adapt to keep up.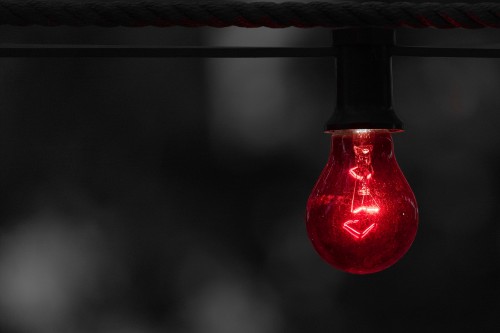 A Shift to Visual
Even within everyday communication, there has been a shift towards a preference for the visual. People would rather receive an e-mail or a text than a phone call or a voice mail. There are many reasons for this, including convenience, but a major contributor is that important information is easy to reference with no action required on the part of the recipient. Everyone's remembers listening to a voice mail multiple times in order to write down a phone number. Now, if you leave a voice mail with important information in it, a lot of people will see that as an inconvenience and wonder why you didn't just text or e-mail them instead.
Direct messaging isn't the only place we expect more visual communication. Increasingly, people want subtitles on videos, even in their own language, so that they can be viewed with the volume turned down or understood even when in a noisy environment. If a speaker has a different accent from our own, subtitles can make it easier to understand. So why don't we expect subtitles for paging and announcements?
Audio and Visual Public Address
Even in normal, everyday announcements, having visual communication be a part of the page is extremely helpful. People aren't always paying attention immediately and could miss the first part of an audio-only PA announcement that is then not repeated. Environments can be noisy, or people could be wearing headphones. Then there's the fact that some people are more visual learners and would have a harder time immediately comprehending something that is only audio. Providing visual communication on top of audio makes all communications accessible to the deaf and blind communities, helping organizations ensure ADA compliance. Text may also assist people whose first language may not be English and who might be able to read English better than they can hear it. Everyone deserves to have equal access to information.
Audiovisual PA in Emergencies
Emergencies are unpredictable and can be very noisy environments. Between people shouting and screaming or the sounds of of a storm, gunshots, an explosion (which could render the people nearby at least temporarily deaf), or other loud noises, the people you're trying to reach might be unable to hear an audio page over the PA. A visual component to your emergency communication system thus becomes vital to communicating the information people will need to save lives. People also often look to a second source of information to corroborate what they're hearing before they actually take action. Providing a visual component to your PA announcement can provide this second source of information.
MessageNet's Audiovisual Solution
MessageNet's solution is audiovisual PA. Instead of having speakers alone, MessageNet's devices are signs that have both speakers and a screen so that both audio and visual messages can be played. Some audiovisual devices have LED text boards, but MessageNet's Omni includes an LCD screen that can scroll messages, display images, including evacuation maps, and videos as needed in addition to speakers and flashers that can get people's attention.
Public address has been in use since the time of Ancient Greece in the form of megaphones. Modern PA and paging systems were invented in 1910 by the Automatic Electric Company in the form of a loudspeaker. Since then, they've been a central component of communications systems. They're used to make announcements in schools, to amplify performances during concerts, and much more. They're also an integral part of emergency communications systems. In some cases, paging is the emergency communication system.
Because of its prevalence in emergency communications, it's important to take advantage of the latest advances in technology to ensure that paging messages are as understandable and intelligible as possible.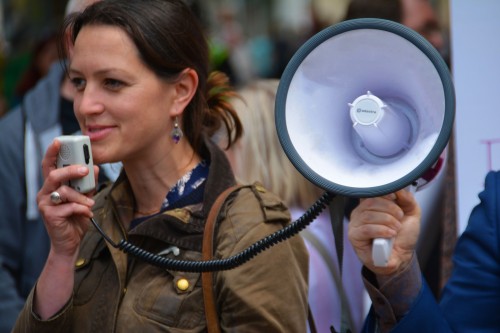 The Introduction of Text-to-Speech
People have been attempting to build machines to replicate the human voice for centuries. If legends are to be believed, the earliest of these was as long ago as 1000 CE. Between 1779 and 1950, many succeeded in building bellows-operated replicas of human mouth and vocal cords that could actually reproduce both vowel and consonants. It wasn't until 1950, however, that computers were first used to try to synthesize speech. 1968 saw the very first English-language text-to-speech engine created in Japan. Early on, however, text-to-speech technically worked but was so difficult to understand that it wasn't a practical option for communication.
But what has text-to-speech got to do with public address?
Text-to-Speech and Public Address
In an emergency situation, public address can be useful for reaching large numbers of people at once within the same location or building. However, someone has to use the paging system and make the announcement. This person may be panicked, making their message difficult to understand. In addition, that person may need to evacuate, depending on the nature of the emergency, and therefore would not be able to stay to continue to deliver potentially life-saving information. This is where text-to-speech comes in.
With an emergency communication system like MessageNet, messages can be created and saved ahead of time that address any emergency or contingency that you can think of. These messages can go to any devices connected to the MessageNet system, including public address and paging systems. The message is delivered via text-to-speech to audio devices so that the message says exactly what it's supposed to and provides all of the information necessary to listeners so that they can take appropriate actions. The message can repeat as many times as desired, including continuously for the duration the message is active. No one has to stay behind and no one has to try to give a detailed message in an emergency situation.
Improved Emergency Messaging
The only thing anyone would need to do is to start the message running in the first place, which can be done with a few clicks from either a computer or a mobile device. Everyone knows ahead of time that any emergency messages that go provide exactly the information needed, no second attempts needed because someone was making an announcement in a stressful situation. Text-to-speech often sounds more official to many, so listeners may be more likely to immediately obey instructions. On top of that, pre-saved text-to-speech messages can be launched more quickly and eliminate potential mistakes from human error.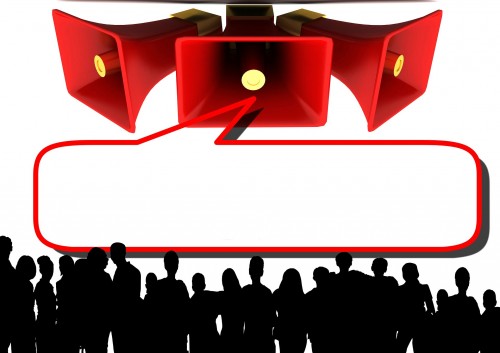 Public address systems have been around in some form or another since the usage of megaphones in Ancient Greece. Modern paging systems with electric loudspeakers were first developed in 1910. PA has been used as an emergency communication system for decades. But in 2019, the nature of emergencies and people's needs have evolved and are now very different than they were in 1910. So how can paging systems evolve to meet today's needs?
PA 2.0 Is Inclusive
Traditional paging systems can only reach the people who are able to hear the message. Anyone who is hard-of-hearing will be excluded from a potentially life-saving emergency message. Even hearing people might be on the phone, listening to music loudly, or wearing noise-cancelling headphones. By the time people realize a message is being spoken, it may be too late to hear it. Emergency situations are notoriously noisy environments. An explosion could easily render everyone in the vicinity temporarily, or even permanently, deaf. Even in the absence of an explosion, people could be panicking and screaming, making a PA announcement difficult to hear. That's a lot of people who might not be able to hear a traditional PA message.
Everyone should have equal access to information. Investing in PA 2.0 can help you make sure that no one is left behind in an emergency. Traditional paging is a component of PA 2.0, but there's so much more to it. PA 2.0 is designed to reach everyone, regardless of their ability to hear an announcement.
PA 2.0 Is Audiovisual
PA 2.0 is an audiovisual paging system. While the PA message plays over the speakers, text scrolls across the screen so that everyone can read the message as it's spoken aloud. The text can continue to scroll long after the audio message has finished, so anyone who missed it can still get the same information. Many people find a visual message to be more authoritative than an audio one and may act more quickly. With the combination of audio and visual messaging, your emergency message can reach everyone, save lives, ensure your organization is ADA compliant, and avoid lawsuits, which can occur even in the absence of criminal liability.
PA 2.0 Is Secure
With a traditional paging system, anyone who knows the correct number can pick up a phone, dial, and make an unauthorized announcement over your PA. To prevent unauthorized usage of the system, PA 2.0 should be secure and require authentication to log in to the system. MessageNet takes this a step further and logs all log in attempts so that if a security breach does occur, it's easy to discover where and when it happened and who's password needs to be changed. Perpetrators have taken to trying to use your emergency communication system against you. In the Parkland school shooting in Florida, for example, the shooter activated the fire alarm in order to lure students outside, where they were vulnerable. Securing your emergency communication system against unauthorized use is vital to saving lives.
PA 2.0 Reduces the Risk for Errors
Speaking live over a paging system risks errors and mistakes in messaging. In emergency situations, stress and panic can affect the person speaking the message live and result in inaccuracies. Plus, to continue the emergency message, the person making the announcement would have to stay to keep speaking it. With PA 2.0, messages can be spoken live, but that doesn't take full advantage of the features offered. Audio message can be pre-recorded and played back so that their accuracy is verified before playing. The best option, however, is to set up a text message ahead of time, which uses built-in text-to-speech functionality that sounds almost like a real person to take advantage of the audiovisual capabilities. Once the message is launched, everyone can evacuate or shelter in place as needed instead of someone having to stay to keep the message going.
PA 2.0 Is Inexpensive
MessageNet's Omni is a PA 2.0 device that is designed to be an inexpensive all-in-one solution to meet the critical and emergency communication needs of organizations. Other all-in-one systems are cost prohibitive or are expensive to install. Less expensive alternatives involve creating your own all-in-one system with a variety of disparate devices that clutter the walls and can be expensive to purchase and install. Omni combines all of the features of PA 2.0 – audiovisual paging, flashers, panic buttons, and more – into one device that is inexpensive to purchase and easy to install, saving you money on installation costs. You can't put a price on safety, but the less expensive the system is, the more of it you can afford to deploy.
PA 2.0 Is the Future
PA 2.0 is the future of emergency and critical communication. Its inclusive nature is designed to make sure that no one is left behind in an emergency. It uses 21st century technology, including mobile apps, Bluetooth, and WiFi, which more people today are familiar with and comfortable using. Older technologies alone worked for a long time, but don't necessarily meet the needs of modern organizations and the situations they may face. Modernize your critical communications with PA 2.0.
The Convenience of Cellular Data
Chances are good that you can't imagine not having cellular data (3G, 4G, LTE, etc.) available for your phone. The convenience of having Internet access no matter where you are is now such an intrinsic part of life for many people. Cellular data has actually been around since 1991, when it was introduced as 2G, and has only got faster and faster in the years since. 2019 will see the gradual introduction of 5G!
Mobile Data in Emergencies
Unfortunately, cellular data becomes less convenient in emergency situations. In emergencies, everyone tries to use their cell phones at the same time, overloading the network. Cell towers aren't meant to handle the volume of traffic that comes from all mobile phone owners trying to use them at the exact same time. Depending on the emergency, there could be physical damage to the towers that prevents phone calls or data usage on cellular networks from going through. In the end, the result is the same – emergencies can result in communication delays that can affect not only personal communications, but also official emergency communications.
For example, cellular networks were completely overwhelmed with communications and shut down during the London Subway Bombing, 9/11, the Boston Marathon bombings, and Hurricane Sandy. After the London Subway bombing, because the network failure impacted the emergency responders' ability to communicate with each other as well, London authorities invested in communications technology that would be specifically for emergency responders and the authorities. The Boston Marathon bombings sparked rumors that government authorities purposely shut off cell networks so that they could not be used to detonate explosives. Hurricane Sandy damaged the cell towers to the point where extensive repairs were needed before they could be used again.
Depending on WiFi
There's a reason why most people prefer to connect to a wireless network when one is available. Even if it's a public WiFi, often it's faster than using cell phone data and it doesn't use up your limited high-speed cellular data. Often, there are fewer people using a WiFi network than there are using data at any given time. This may be because of the limits of the wireless signal's range or because it's password-protected and only certain people are allowed access to that network.
In an emergency situation, using a wireless network instead of relying on data to send out emergency alerts is preferred. Not only is the network faster and more reliable, but it also may help ease the congestion on an already-swamped mobile network. Some emergencies, like Hurricane Sandy, may also knock out power, and therefore WiFi along with it, but in many cases, wireless networks may still be active even if the cellular networks are down. Cellular service providers may be working to improve their infrastructure so it can more easily handle an increased volume of calls and texts. They already do this for sports games, concerts, and other events that see large crowds in one location. But emergencies can't be predicted, so it's best to rely on your wireless network first and leave using cellular data as a backup. It's also important to have a contingency plan for if both are unavailable.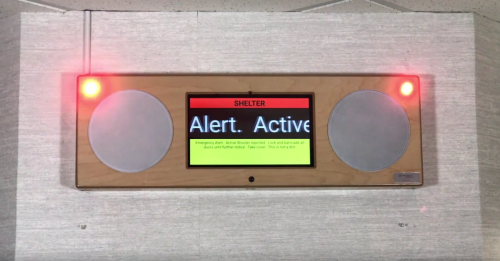 Sometimes it seems like the only news we see nowadays is of mass shootings. Gun violence is everywhere, from schools to public places. It's more important than ever before for an emergency communication system to be able to address this kind of emergency with an active shooter alert that provides detailed instructions so that everyone knows what to do in an emergency. With MessageNet Connections, you can create an active shooter alert message (and an accompanying drill message) that has both text and audio as well as flashers to get people's attention more easily. So how can you create this active shooter alert message?
Create a New Message
Log in to the MessageNet Connections Administrative Interface and navigate to the Message Directory. Choose a message to use as a template and click on the question mark button to open that message. To create a new message, first select the Message Directory in which the new message will be saved – if you have an Emergency Message directory, it's best to save the message there. Then, enter a new name (for example, Active Shooter Alert) into the Message Name field. Once those two fields have been changed, click Save as New.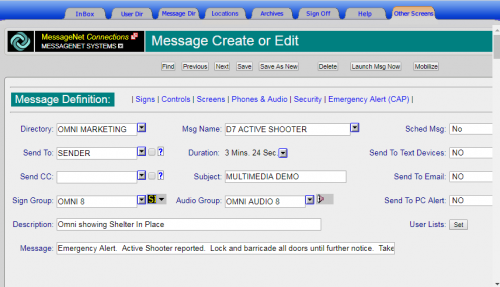 Send to Sender
Because this message will display on signs, it's important for it to be set to send to Sender. This means that the message will appear in the Inbox of the user who sent the message. That user can thus maintain control of the message and can cancel it and relaunch as needed, in case there was a mistake, such as the wrong message being sent by accident. If it's not configured to send to the Sender, then if the Sender needs to close the message, they will have to contact the person who received the message in order to do so. This could take time in an emergency situation that just isn't available. Sending the message to Sender instead of to another user will automatically send the message to the Inbox of the user who sent it so if any corrections need to be made, it can be done quickly.
In the Send To field, click on the arrow button – this will open a new window with a list of all users in the system. At the bottom is a button for Sender. Click Sender and then OK.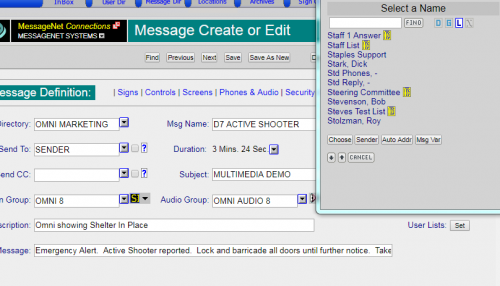 Select Sign and Audio Groups
Messages can be sent to any combination of signs, but for an emergency message, it's recommended that the message goes to all of them. The MessageNet system automatically creates an ALL SIGNS sign group that contains every sign defined on the system – new signs will also automatically get added to this group. If the available signs have audio capability (Omni devices, MediaPorts, IPSpeakers), there will be a corresponding All Signs audio group.
Click on the arrow button for each of the Sign Group and Audio Group fields. Select All Signs in the window that pops up (or other group if needed). Then, click OK to save the change.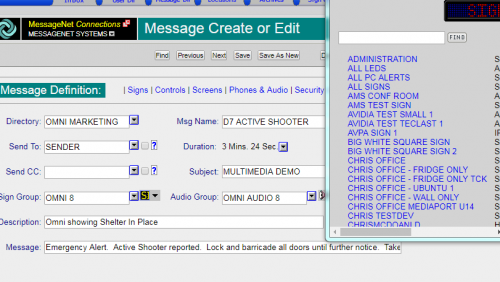 Message Text
The Message field is where the text that will be the body of the message is entered. This is what will be displayed on the signs. For an active shooter alert, it should read something like this: "Emergency Alert. Active Shooter reported. Lock and barricade all doors until further notice. Take cover. This is not a drill."
Flashers
For emergency alerts, flashers are always recommended. They can get people's attention much more easily than a scrolling message can alone and they are color-coded so anyone seeing the message will readily understand that it's an emergency. Omni devices and IPSpeakers have built-in flashers.
To add flashers, go to the Sign Appearance section of the Message Editor. The method for adding flashers is different depending on the device. For IPSpeakers, use the Msg Alarm field and select which combination of flashers is needed for the message. For Omnis, the flashers are more sophisticated and have both more colors and more options. For an active shooter message, either flashing red (for emergency) or flashing blue (for shelter in place) is recommended. Select the color and the action in the Signal Light field. Then, in the Light Duration field, select how long that action should be performed (for example, for ten seconds, thirty seconds, the duration of the message, etc.).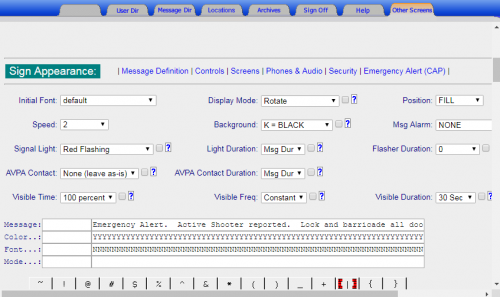 Emergency Alert Status
On an Omni device, the background color of the screen can be changed to reflect the emergency alert status of a message. For example, an emergency message will have a red background, while a shelter message will have red at the top and yellow at the bottom. To set the emergency alert status of the message, go to the Security Controls section of the Message Editor. Select the desired status – for an active shooter alert, either Emergency or Shelter is best.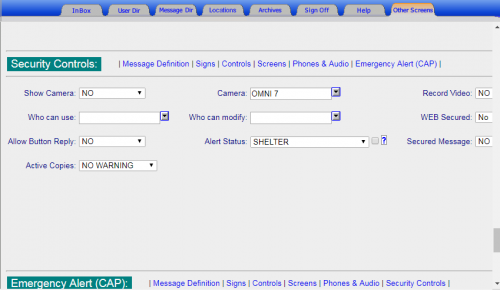 Save the Changes
Once the changes to the message are complete, it's important to save the message. Scroll all the way back up to the very top of the message and click the Save button. Then, test the message to make sure that it works exactly as expected.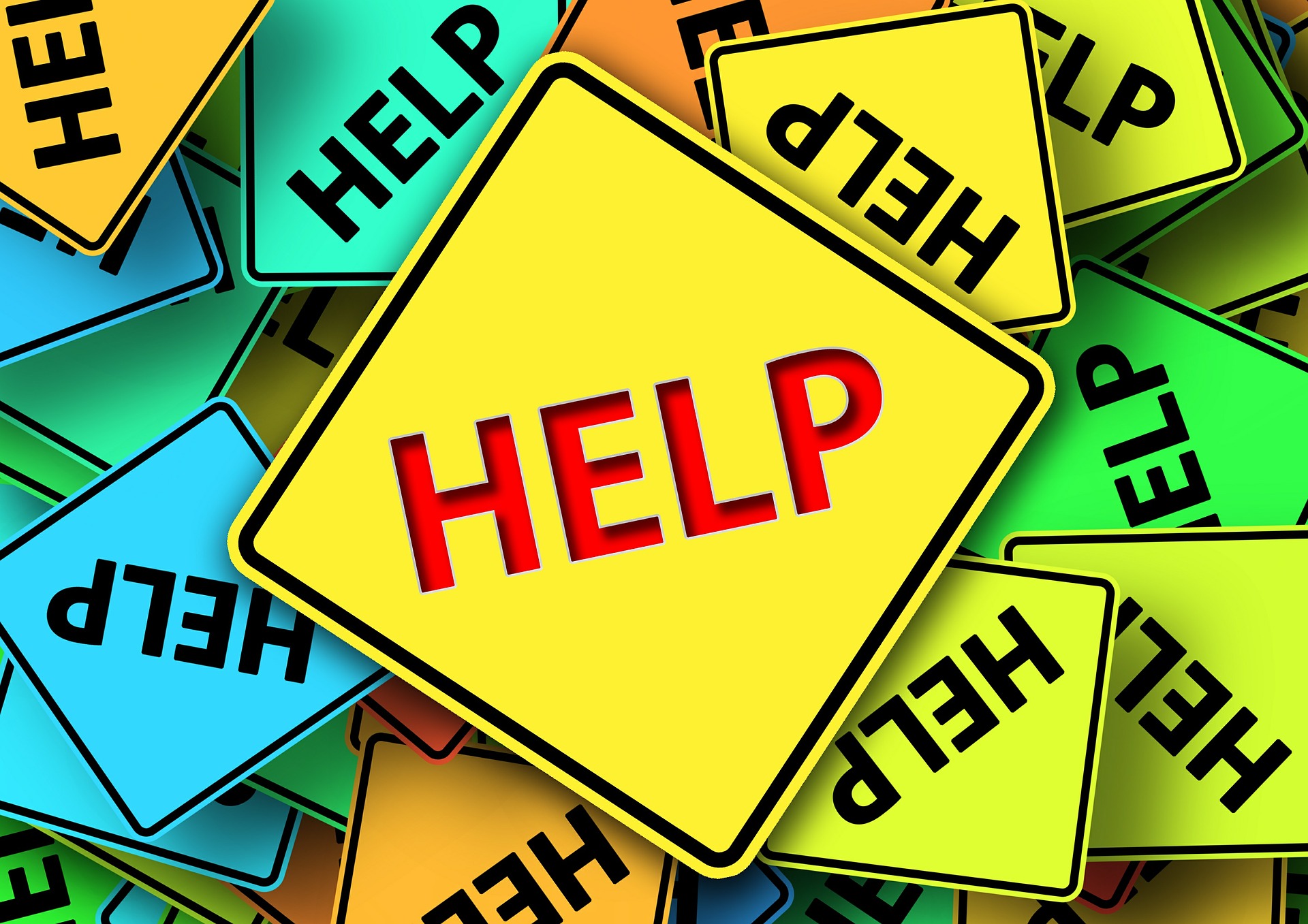 Emergency Communication: An Unfortunate Necessity
While it would be nice to live in a world where emergency communication wasn't necessary, it's unfortunately not the world we live in. Every organization, from schools to companies should have some kind of emergency communication system. Even the Gotham Police Department has the Bat Signal and the Bat Phone. Most emergency communication systems aren't quite as simple as flicking the switch on a spotlight or picking up a phone, however, so it's important to know how to use it properly.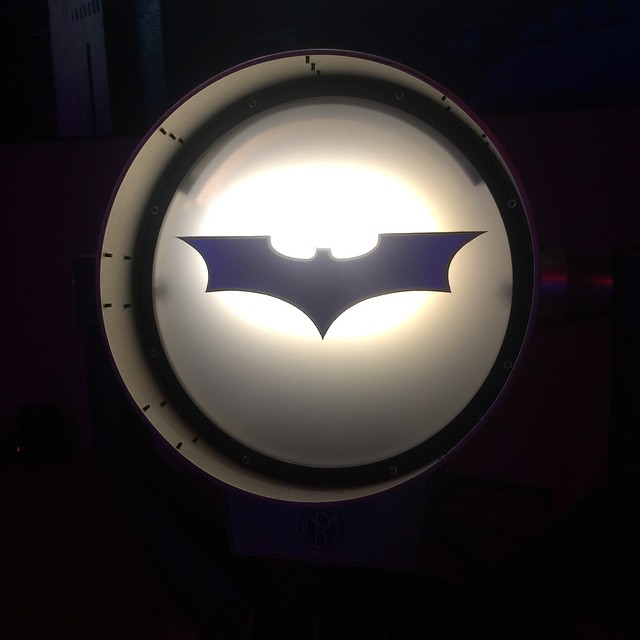 The Problem with Infrequent Usage
Practice Makes Perfect
Using your emergency communication system regularly is key. This does mean running emergency drills on a regular basis so that you can be sure that not only does everyone know how to use the system but they also know exactly what to expect when an emergency alert needs to go out.
Run Regular Drills
Schedule regular drills for a variety of different emergency messages. Make sure your staff (and students, if you work in education) are aware that a drill will be occurring. A staff member who would be in charge of sending the alert in a real emergency should be the one to send the alert for the drill. If you have different types of emergency alerts, such as active shooter, tornado, extreme weather, fire, etc., then you'll need to run tests for each one. This will ensure that not only does everyone know what to do in an emergency but also that they know exactly what to expect should an emergency arise. Plus, you're regularly testing the entire system to make sure it functions as it should in an emergency situation, rather than waiting until an emergency occurs to discover that something isn't working.
Use the System Every Day

Even better than scheduling regular drills is to just use the system every day. MessageNet Connections has many uses far beyond just emergency communication. You can use it for a bell schedule, posting lunch menus, displaying announcements, requesting meetings, contests, trivia, and more. Devices like the MediaPort and the Omni can display videos as well as images, PowerPoints, and text.
MessageNet Connections is far more than just a spotlight in the sky or a phone call to Batman. The system's versatility gives it a wide range of everyday activities that can be done. The more that is done daily by your staff, the more experienced at using the system they'll be. If an emergency situation arose, they would already be familiar and comfortable with using the system. Administration would also be more familiar with all of the capabilities of the system and so could design emergency alerts so that they utilize the full potential of the system. Emergency alerts can therefore reach more people in the event of an emergency scenario.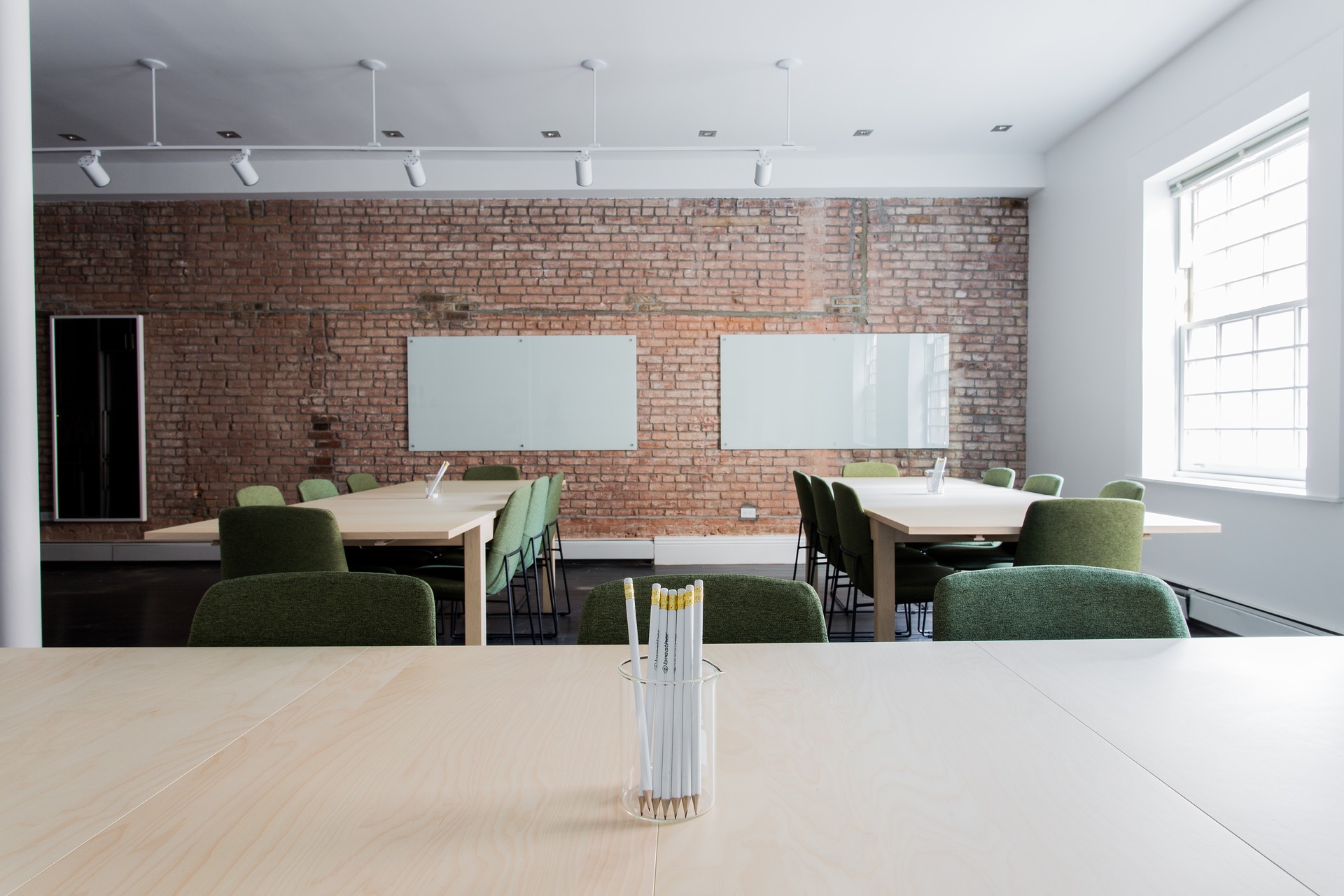 What Are the Concerns About Cameras in the Classroom?
Cameras are everywhere. They're in our computers and phones. They're in stores and in cars. In schools, they're in the hallways, cafeteria, gymnasium, and the playground. Video cameras are a major part of the overall conversation about what can be done to keep students and staff safe. They can be an important tool in monitoring potential threats, recording any incidents that occur, and even deterring crime. So why aren't cameras more often found in classrooms?
Safety vs. Privacy
A major concern with cameras in classrooms is privacy. Should students and teachers be able to expect any amount of privacy while at school? The majority of cameras in schools are currently located in public areas. People expect to be watched in common areas like hallways and the cafeteria. But classrooms are a different story. There are understandable concerns about what may be recorded and who can see that footage.
Teachers and parents alike may have questions about what the video footage could be used for. Would it be used as a part of teacher evaluations? What about student performance? Being on camera changes how people act – if both students and teachers alike feel pressured by the cameras, they may be less likely to fully engage with their work. They may also feel more stressed from feeling constantly monitored. The overall culture of the school could change, if neither students nor staff feel like they can relax because of the constant presence of the cameras.
A Lack of Resources
Having a surveillance system requires not just the financial means to install it in the first place. It also requires some school staff to have the technological know-how to install and maintain a system. Some may be reluctant to devote more staff time and school district money to increasing the number of cameras, especially when there may already be cameras in the hallways and common areas.
Why Should Classrooms Have Cameras?
Despite the concerns about cameras in the classrooms, there are a lot of advantages, for both teachers and students. They can contribute to keeping students and staff safe in an emergency, but that's not the only benefit. They can improve overall behavior in everyday situations as well. The important thing is that if cameras are in classrooms, the teacher needs to have control of them.
Teacher Control
No one likes to feel like they're on surveillance all the time. It's a lot of pressure and the vast majority of the time, there's nothing of note to film. But cameras in the classroom can be incredibly useful in the rare instances that there is a problem, so long as the teachers control when they're on and when they're not. If the teachers can activate the camera when an incident begins, the principal or other staff can be alerted and there's a recording of what happened in case there are differing versions of the story. Some students may be encouraged to behave better, knowing that the teacher could turn the camera on at any time.
Emergency Cameras
In an emergency situation, the cameras could prove invaluable to locating and recording the perpetrator. The principal or security staff could have emergency control of the cameras to turn them on and even send the video feed to the police or other emergency responders if needed. Security can see what's going on anywhere in the school if cameras are also in the classrooms.
Closing a message removes it from active status and, if archiving has been set up in the Message Editor, sends it to the Archives. Messages that do not have archiving set up will disappear when closed. Closing a message will also stop any additional features of the message, including text or media on signs, signal light flashing, etc. Messages can be closed manually via the Inbox or Stop Active Messages, or automatically via duration or by another message with a command list. There may be limitations to who is allowed to close certain messages, depending on user class and other restrictions.
Inbox:
Click on the Inbox tab/
Click the checkbox next to the message you want to close.
Click the close button.
The screen will then refresh.
Note: MGR users with access can use the arrow button to navigate to another user's Inbox and follow the steps above to close messages sent to someone else.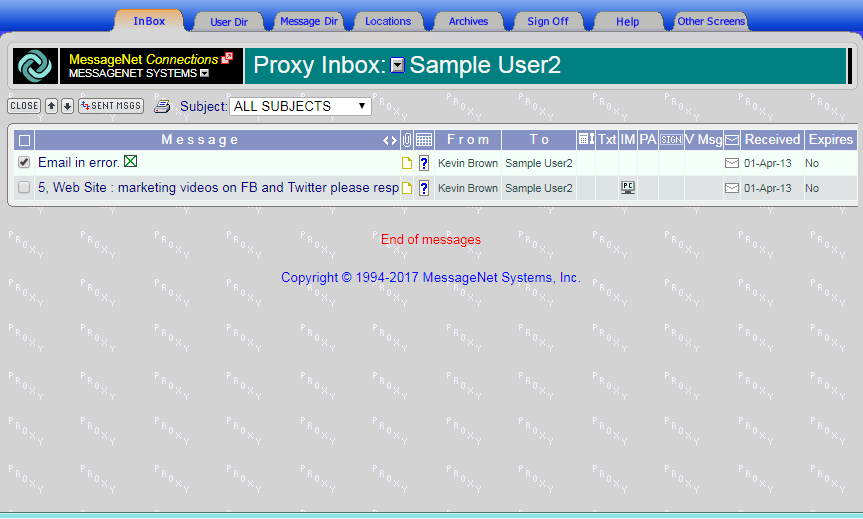 Stop Active Messages:
Click on the Other Screens tab and select Stop Active Messages.
Click the button next to the message you want to close.
The screen will refresh.
Note: MGR or AMG users can close any active message from the Stop Active Messages screen. Users of any other user class can close only messages that also appear in their Inbox.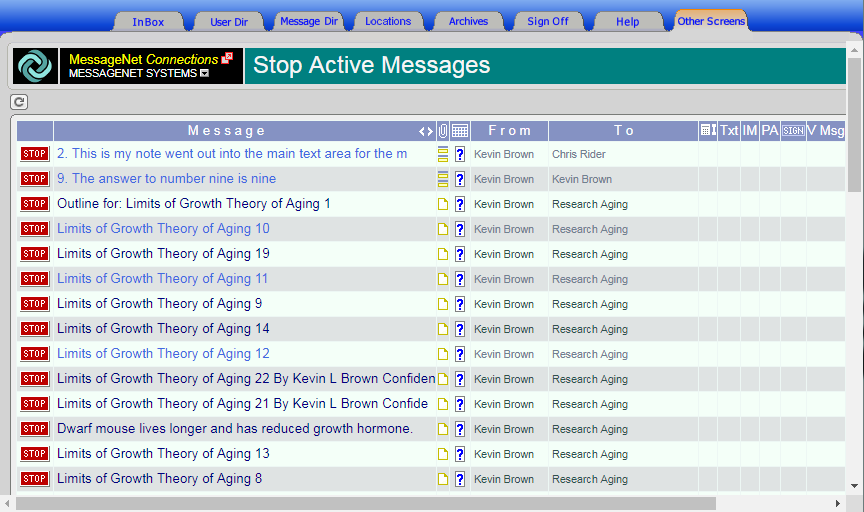 Duration:
Messages can be set to close automatically by specifying a duration in the Message Editor. Navigate to the Message Editor (either by clicking on the button next to the message name in the Message Directory, or by clicking Other Screens and selecting Message Editor and using the Message Directory and Message Name fields to select the message
.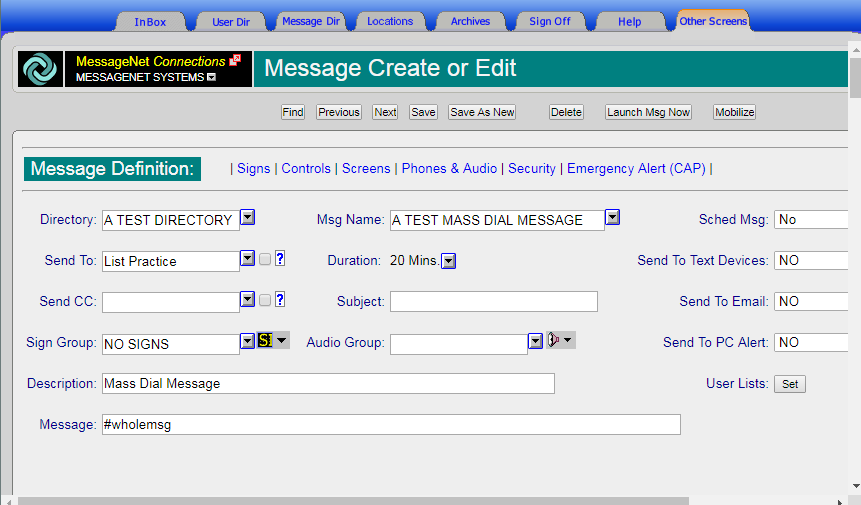 Use the button next to the Message Duration field to open the Message Duration pop-up window.
Enter the hours, minutes, and seconds you would like the message to remain active, and then click OK.
Click the check box if you want the option to change the message duration when the message is launched.
Click No Expire to have the message active until manually closed by a user or closed by another message.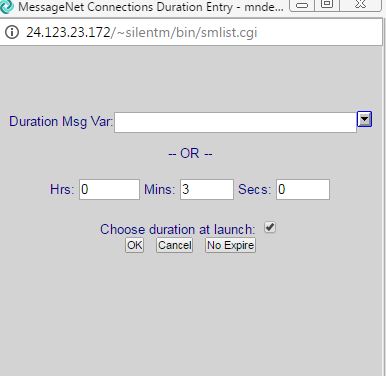 Command List:
Messages can be closed by another message, which will require set-up in both the message that will be closed and the message that closes it.
First, navigate to the Message Editor for the message that will be closed.
In the Label: field, enter an appropriate label name of your choice and click Save at the top of the message.
Note: This feature closes all messages with that label, so any messages containing that same label will also be closed.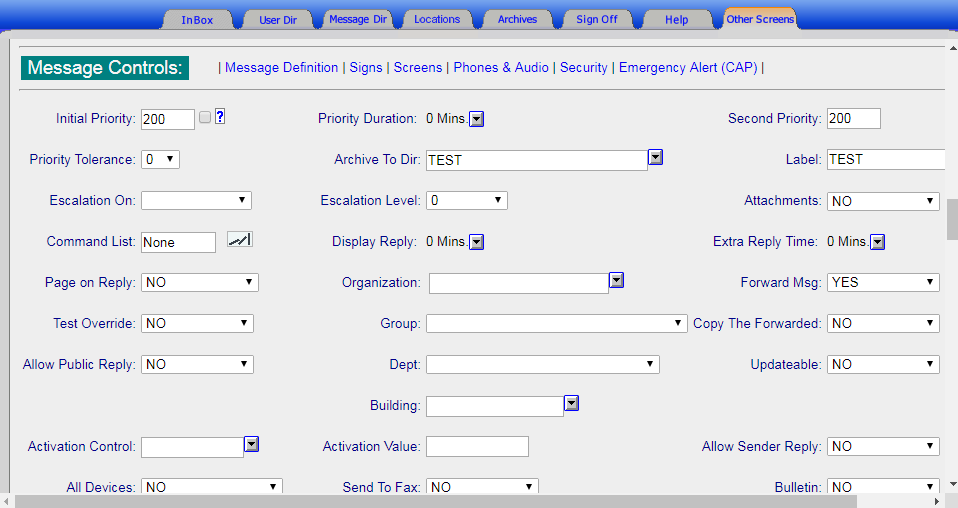 Next, navigate to the Message Editor for the message that will close the other. Scroll down to the Command List and click on the icon, which will open a the Command List screen in a new window.
When: On Launch
Command: Reply Msg
Column A: LABEL:
Column B: the label (all caps) that you created in the first step
Click Save, then Done, which will close the Command List window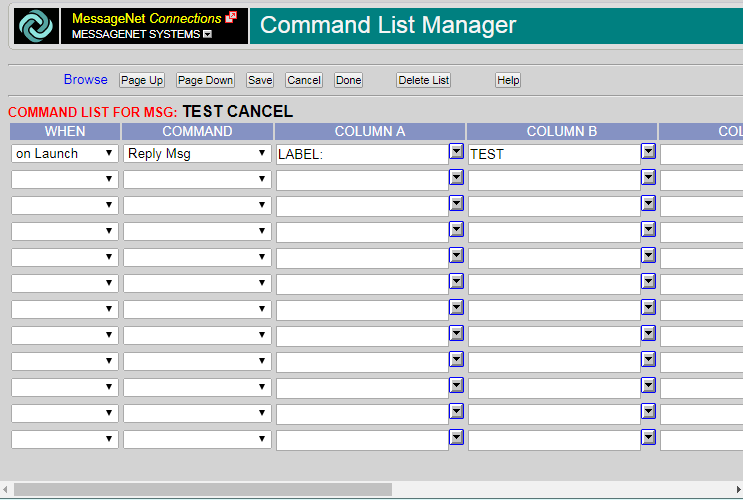 Click Save at the top of the Message Editor.
Scroll down again to the Command List field and it will now say Exists next to the icon.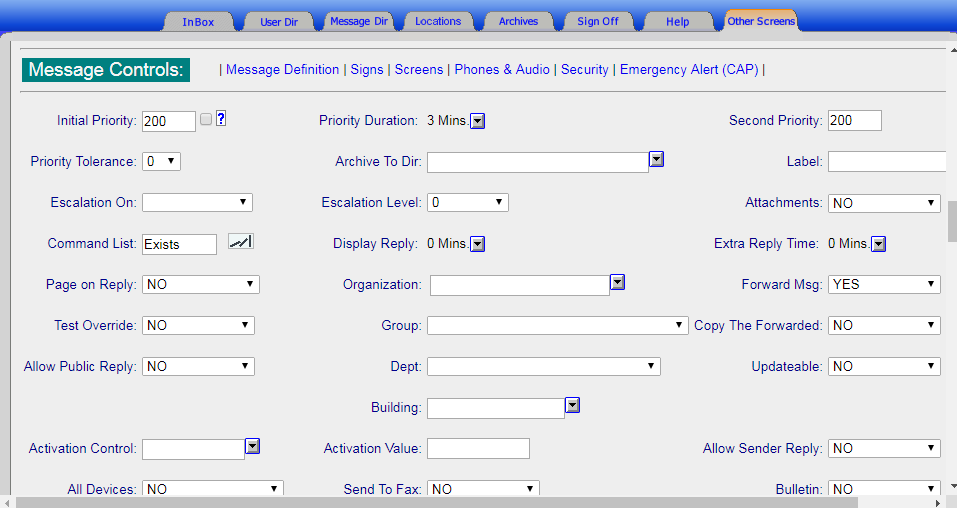 Recent emergency events such as school shootings have shown that emergency communication systems need to be more than just audio PA because a fire alarm can drown out an audio announcement. An emergency communication system needs to be both text and audio, as well as have cameras and signal lights to be more effective. But putting all of these different types of devices and systems into an organization can be prohibitively expensive. That's why MessageNet is introducing the new Omni device – an all-in-one room appliance that is designed to have all of these features and more in one low-cost, easy-to-install device.
The Omni comes with built-in flashers, a high-definition LCD screen, speakers, and a camera. It can connect to external devices such as wireless panic buttons via Bluetooth. It's easy to install – it mounts on the wall and doesn't require pulled cable because it plugs in with a PoE power injector that plugs into the wall and connects to the network wirelessly, although a wired Ethernet option is available if desired. It can even plug into a dedicated LCD via HDMI to project the contents of the built-in LCD onto a larger screen. The Omni also has a built-in battery backup so that the device can still function for a time in the event of a power loss.
With the Omni device, organizations can save on both the cost of the device and on the cost of installation while still getting the same features and benefits of the separate communication systems. For more information, visit the Omni web page by clicking here.
User Directory Navigation
Browse: Click to browse a full list of all users
Find: To find a user by name, clear out the last name or first name field, enter the appropriate name, then click find. If there are multiple users with that same first or last name, make sure the cursor is in the field that you used to search, then click Next.
Previous: Click to navigate to the previous user record – the system sorts users alphabetically by either first or last name, depending on which field contains the cursor.
Next: Click to navigate to the next user record.
Save: Click to save changes to a user record.
Save As New: Click to save a new user. Note that the PIN/User ID must be changed to create a new user record.
Delete: Click to delete the user record.
Clear: Click to clear out all fields.
Com Ctrl: Click to navigate to the Comm Control screen. See How to Change Comm Control Preferences.
Ctrl List: Click to navigate to the Sys User Database Access List to change which users have access to the User Database Manager.
Check Boxes: Next to several fields, there is a check box – selecting this check box will allow the user the ability to change that field themselves.
Question Mark: The question mark icon will display more information about the field it's next to if you mouse over it.
User Directory by Field/4>

The required fields to create a new user are: Last Name, First Name, Directory, PIN/User ID, Password, Sign Group, and Class.
Last Name: This is the user's last name.
First Name: This is the user's first name.
Initial: Enter an initial if the user has the same name as another to differentiate.
Directory: Select a Message Directory to be the user's default directory. This will be the directory that automatically loads when the user clicks on the Message Dir tab.
PIN/User ID: This is the user's unique ID, which is used to log in to the MessageNet system.
Password: Enter the user's password, which will be used to log in to the MessageNet system. Note that if a user forgets their password, for security reasons, MessageNet Support staff cannot reset the password. That must be done by the on-site system administrator.
Courtesy Title: Select the courtesy title for the user. This does affect the Gender field – if Ms. is selected here, Male cannot be selected for Gender.
Sign Group: If the user has a sign or other public device that can be used to contact the user, select its sign group here. Because this is a required field, if the user has no sign group, select No Signs.
Class: Select the user's class. This determines what features and screens of the MessageNet system the user has access to. See below for a full list of user classes.
SS Num: This is the user's social security number. The MessageNet system does not use this field, so it is for informational purposes only.
Short Name: Enter a short name for the user, if they have one. This is to help differentiate users of the same name.
Gender: This field sets the gender of text-to-speech messages sent by this user. It is affected by the Courtesy Title field – for example, if a masculine title is selected, the Gender field will automatically change to Male.
Text Device Control: See How to Set Up Text Device Control.
Commercial Pager: Use the down arrow to select the user's commercial pager, which is pre-defined in the Hardware Pager Database. This is the user's primary text device and can be either a pager or a cell phone (See How to Define Text Devices).
Inhouse Pager: If a user has multiple text devices, select the second one in this field.
Audio Group: If the user has a sign or other public device with audio capabilities that can be used to contact that user, select its audio group here. This will allow other users to send audio messages for that user to this audio group.
Work Phone: Enter the user's work phone number.
Extension: If the user has an extension, enter it here, with the main work number in the Work Phone field.
Cell Phone: Enter the user's cell phone number.
Reports To: If the user reports to a superior, select that user here.
Home Phone: Enter the user's home phone number.
Other Phone: If the user has an alternate phone number, enter it here.
Street: Enter the user's street address. This and all fields relating to the user's address are fore informational purposes only and are not used by the Messagenet system.
City: Enter the city in which the user lives.
Email: Enter the user's e-mail address. Note that this field is used for messaging, but that e-mail does need to be set up to work between the organization's e-mail server and the MessageNet server.
State: Enter the state in which the user lives.
Zip: Enter the user's zip code.
Fax: Enter the user's fax number. Note that this field is also only for informational purposes. The MessageNet system cannot send a fax.
Dept: Select the user's Department. This field can be used to logically sort users into lists.
Group: Select the user's Group. This field can be used to logically sort users into lists.
Organization: Select the user's Organization. This field can be used to logically sort users into lists.
Site: Select the site at which the user works.
Room: Select the room in which the user works.
Job Title: Enter the user's job title.
Employee ID: Enter the user's employee ID number.
Check Msgs: Enter the length of time (in seconds) that will be the interval at which the Inbox refreshes automatically to check for new messages. A zero in this field will indicate never auto-refreshing, while any number smaller than 60 will be treated as 60.
Max Priority: Enter the maximum priority the user can assign to a message.
Note: enter any notes about this user here.
Auth List Cell: Select a list to restrict who can view the user's cell phone number on the User Directory screen.
Auth List Home: Select a list to restrict who can view the user's home phone number on the User Directory screen.
Auth List Other: Select a list to restrict who can view the user's other phone number on the User Directory screen.
Auth/Dist List: This field has two functions. If the user is a LST or LSI user class, which should only be used for lists, this field will distribute any messages sent to the user to any users in the list selected in this field. If the user is any other user class, this field instead restricts who can see or message the user within the system to only those on the list.
Automated Attendant: If MessageNet manages the phone system directly instead of interfacing it, click this check box to add this user and the extension listed above to the automated attendant.
Default Locations: this field is used to specify a specific map as the default when the users accesses the Locations tab.
Max Voice Msgs: Enter the maximum number of voice messages the user can have in their voice mail box at once.
Voice Msg Dir: Select a message directory that will hold voice messages for the user. If none is selected, the default of SYSTEM.DEFAULT will be used.
Voice Msg Name: Select the name of the message that will launch when the user receives a voice message. If no message name is selected, the default of VOICE MESSAGE will be used.
Button Control: Check the box to allow the user the ability to change messages attached to a button associated with them.
Auto Login: Check the box to allow auto login for this user. For security reasons, this is not recommended for any user that has multiple devices, uses any public devices, or shares devices with other users.
Show on User Dir: Check the box to include the user on the User Directory. Without this box checked, the user will not be listed in the User Directory.

User Classes
Class defines a user's access within the MessageNet system. The on-site system administrator should decide what duties each user should have and what features they'll need access to before creating users. A full list of user classes and what features they have access to is available by clicking on the Help tab from the User Database Manager. There is also a chart of screens and the most common user classes and what those classes have access to. The most commonly used classes are MGR, LIB, CL1, CL4. JOB, LSI, and ROM.
MGR: MGR stands for Manager and is the highest class of user and has access to all screens. Any on-site system administrators should be this level of user class.
AMG: This is the assistant manager user class. It has the almost the same access as the MGR user class and is intended for high-level users who are not system administrators.
LIB: This is the library-class user and is meant for creating Message Libraries for the Connections Mobile app.
CL1: This is the highest class of standard user. This user class has access to the Message Editor for message creation.
CL2: This standard class of user also has access to the Message Editor, but has access to fewer Other Screens.
CL3: This standard class of user can launch messages, but not edit or create them.
CL4: This is the lowest class of standard user.
JOB: This is used to define a role or job within the organization that can then be forwarded to different users who hold that position at varying times.
CST: This is the customer-class user and allows access only to the inbox and message directory screens and is only valid for a default of twenty days.
GUC: This is the General User Class. It allows access only to the Send, Reply, User Directory, User Database Manager, Comm Control, and Stop Active Messages screens
MUC: This is the Message User Class. It allows access only to the Send, Reply, User Directory, and Stop Active Messages screens.
LST: This is a list-class user that is used to forward messages on to user lists. The LST user class sends one message to all of the users on the list so that if one person replies to it or closes it, it is closed for all other users as well.
LSI: This is a list-class user that is used to forward messages on to user lists. The LSI user class sends each user on the list their own copy of the message so one user replying to or closing the message does not affect the other users' copies of the message.
ROM: This is a room-class user and is used to define rooms or locations so that messages can be sent to public devices with no user owning them from the User Directory.
STU: This is a student-class user and is only allowed access to view their new and old messages.
GRD: This is a guardian-class user that is associated with a student and is allowed access only to view old and new messages.
TAP: This is a user class designed to define other computer systems as users so that the MessageNet system can receive input from the computer system's TAP protocol via the modem connection. When the MessageNet server sees input from the TAP protocol it matches the TAP user's PIN and then looks in the Directory field for the user's default directory and then looks for a message that matches the input to launch.
XPA: This is an Extend PA user class that has access only to the Locations and User Directory screens.
LOC: This is a location-class user that has access only to the Locations screen.
SGN: This is a sign-class user that can only send pre-defined messages from their own directory and to reply to messages.
KSK: This is a kiosk-class user that can only send pre-defined messages from their own directory.
PAG: This is a pager-class user that can only send pager messages from the User Directory. All other User Directory icons will not be visible.
UDM: This is a User Database Manager class user that is only able to manage, create, and delete user accounts in the User Database Manager.
ADM: This is the Administrative User class. It's designed to be able to manage, create, and delete user accounts but cannot assign passwords to user accounts.
SCR: This is the Security user class and can only assign passwords to user accounts or upload CSV files.
DIR: This is the directory class user and is allowed access only to the User Directory.

Browse

If you click on the Browse button, this will take you to a new screen that is a list of all users saved in the MessageNet system in order alphabetically by User ID/PIN. You can navigate by filling in the Last Name, First Name, PIN/User ID, or Extension fields and then clicking Find. Click Next to navigate to the next user in order based on the field that was used with Find. The CSV button will allow you to create and export a CSV file. At the bottom of the screen are up and down arrows that will page up and down. Clicking on the number next to a user entry will take you to the User Database Manager entry for that user. To return to the User Database Manager, click Revert at the top of the screen.